Medical education in Hindi is a social revolution - CM Shri Chouhan
CM participates in the programme "Ek Deepak Hindi Ke Naam"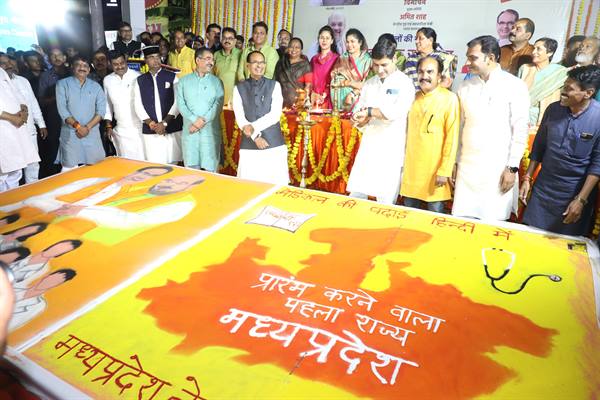 Chief Minister Shri Shivraj Singh Chouhan has said that from October 16, pioneering in the country, MBBS will be pursued in Hindi in the state. It is a social revolution. Now sons and daughters of poor, middle class and farmers will also be able to study in Hindi. Madhya Pradesh will devise new history on this day. Chief Minister Shri Chouhan said that Madhya Pradesh is progressing to fulfill the resolve of Prime Minister Shri Narendra Modi. Madhya Pradesh will become the first state in the country to offer medical education in Hindi language Chief Minister Shri Chouhan attended the program "Ek Deepak Hindi Ke Naam" at Roshanpura Square. He lighted a lamp and dedicated it to Hindi. Organisation General Secretary Shri Hitanand Sharma, Medical Education Minister Shri Vishwas Sarang, MLA Smt. Krishna Gaur, Shri Rameshwar Sharma, Mayor Smt. Malti Rai, former Mayor Shri Alok Sharma, social worker Shri Sumit Pachauri and citizens were present.
Chief Minister Shri Chouhan said that it is the resolve of Prime Minister Shri Modi that medical and engineering studies should be done in national language. To fulfill his resolve, I decided to make medical studies in Hindi in the state, which is going to come true on 16 October. He said that where there is a will, there is a way. Lakhs of students used to get frustrated because of not knowing English. Now they will not face any obstacles in their studies and will be able to study in Hindi easily. Everything can be done in Hindi even without English. Union Home Minister Shri Amit Shah will launch Hindi books for medical studies in Bhopal on Sunday. The Chief Minister urged the people and parents of Bhopal to participate in the programme।